Investing in the Future
Published date: 28 Jul 2021
Back to Article Listing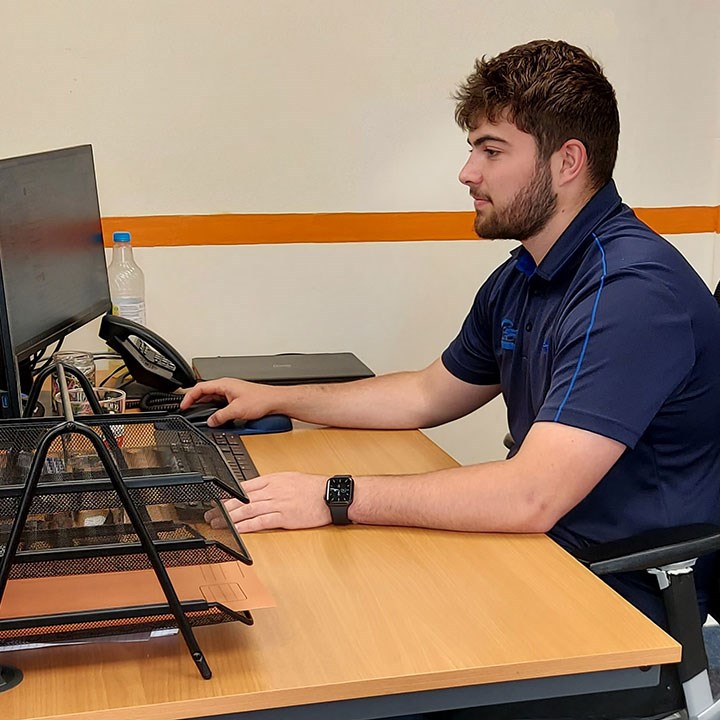 At SBR we recognise the importance of future-proofing the business and investing in apprentices. Over the past five years we have taken on several additional personnel including three apprentices (soon to be five). One of our apprentices is Nic Wilde.
Nic is a keen sportsman who enjoys playing both rugby and golf. Having studied Media, Business Studies and Sport at A'Level he looked at University courses to further his education but, partly due to the pandemic, he decided that it would probably be better to learn on the job rather than compete with lots of other people who had similar degrees. Of course there was the added attraction that he would get paid too!
Nic decided to pursue a career in Business Management - SBR appealed as it is a relatively small company but big enough for him to work in different departments. Nic already had an idea as to what SBR was all about as he helped out during the Easter weekend of 2020, assisting in the manufacture and delivery of gaskets to BAE as part of the ventilator challenge – one of his proudest achievements. Nic has already mastered the admin and invoicing systems and is now moving on to Sales as he comes towards the last third of his 12 month course – Management Consulting Level 4.
It's not just learning the systems but also some coursework. This consists of five written statements on five projects which are also backed up with evidence. Nic will have to choose one of the projects to give a presentation on too.
The first of these projects was breathing life back into an aviation-spares sales platform. SBR's subscription had been allowed to lapse and no time had been invested in making it live again or attracting customers to SBR through this medium. Nic rejuvenated it and has once again made it a useful tool.
Nic has found his colleagues at SBR to be very supportive, which is understandable as some of them also began life at SBR as apprentices. He likes the fact that there is a clear line of progression and is taking on more responsibility all the time.
It's not all one way either - apprenticeships bring mutual benefits to businesses and apprentices alike. Here are some comments from his mentors:
Nic has proven that he is adaptable and dependable – he has performed a variety of jobs across different business functions to high standards and in a timely manner. This makes Nic a dependable member of the team who ensures strong company performance across departments.
Nic demonstrates a desire to learn new skills and further his knowledge across the company's served industries and products. This attitude to work and the company will serve him well in the future as his career progresses.
Nic has strong interpersonal skills and is able to develop strong relationships which enables him to work well within a team and also with external stakeholders. He is a good team player with strong communication skills and this allows him to manage suppliers and forge good customer relationships resulting in orders.
Nic is now looking forward to completing his course and progressing his career in sales at Southbourne Rubber.